Penile Skin Bridge Treatment at Our Dallas Clinic
Occasionally, a penile skin bridge can result from an untreated penile adhesion occurring after a circumcision. Sometimes, circumcised babies are left with tight or thickened skin on the shaft or tip of the penis. If this describes you, Comfort Procedures has a solution for your discomfort.
A fast, simple, in-office procedure to remove the skin bridge will fix the problem. Men and teens in the Dallas area are welcome to call us at 469-931-0684 to schedule an appointment for a removal.
How Does a Skin Bridge Happen?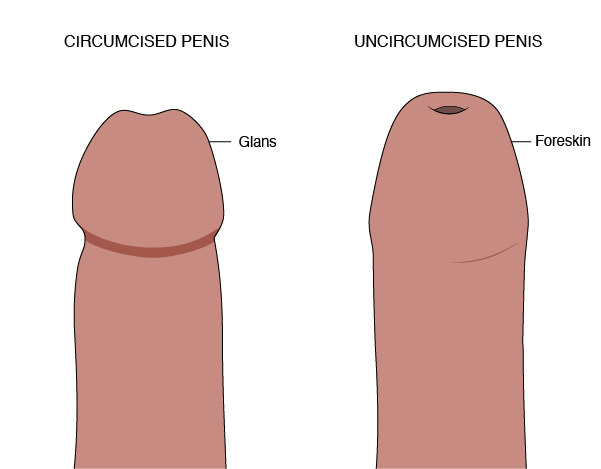 During the healing process after circumcision, skin on the shaft of the penis can adhere to the glans or head. This penile adhesion can develop into a skin bridge if left untreated.
Penile adhesions are an uncommon complication but are easily treatable. Adhesions can occur if too much foreskin is left behind after circumcision or if pubic fat pushes the skin forward onto the head. This can lead to discharge from the trapped oils, dirt, or skin cells.
Some adhesions can resolve themselves on their own as erections stretch the skin or could be addressed with topical creams. However, the skin could attach itself permanently to the tip of the head (an area called the coronal margin) where it creates a thicker connection called a penile skin bridge.
If you have concerns about penile adhesion or a skin bridge, please don't hesitate to contact our practice for a consultation.  Patients from Dallas and Fort Worth can see the doctor quickly.
During your examination, Doctor McAuliff will offer his recommendations on the best course of action.  If removal of the skin bridge is required, we will set up an appointment for the procedure.
Symptoms
A skin bridge is easy to spot as a penile adhesion. It is common for men who have a penile adhesion to experience a sensation of tugging or pulling on the glans during an erection. For some, discomfort can affect arousal and sexual satisfaction.
Some men may experience cosmetic displeasure with no pain involved. If you are unhappy with the look of your penis because of a skin bridge, we can help.  We see this in other areas of our practice as well, for example, with adult circumcision.  It's not uncommon.
However, for some men, the skin bridge causes severe pain during erection and can be worse during sex. It can lead to sanitary issues if too much dirt or oil become trapped, causing and unpleasant odor.  Loss of some sensation is possible if too much of the glans is covered.
Fortunately, the treatment for a skin bridge is quick and nearly painless. The procedure for a penile skin bridge removal typically takes less than a half hour.  We offer treatment for adolescents and men at our Richardson, Texas location.
Cost of Skin Bridge Removal
The cost for a penile skin bridge removal is $2200, with $400 as a deposit to hold the appointment and the balance of $1800 due on the day of the procedure. We do ask our patients to pay in full at the time of service. Please note that the deposit is non-refundable.  If you do cancel and reschedule 7 days or more from the date of your appointment, the deposit will apply to the cost of the procedure.  If you cancel 6 days or less before the originally-scheduled appointment and you wish to reschedule the appointment then you will need to pay a new deposit.  We have this policy out of consideration for other clients who may have wished to schedule in that time slot but did not have the opportunity because it was held for you.  If you cancel very close to the appointment, someone else did not have a chance to schedule in that time slot.
We do not take insurance for the procedure.
It is our experience that insurance does not cover the cost of a skin bridge repair. Most insurance companies have a disclaimer that says they will only pay for procedures that are "reasonable and necessary". Despite how the patient may feel about the necessity of this procedure, the insurance companies usually do not considerate it to be medically necessary and they do not pay for it. Thus, the medical group is not affiliated with any insurance companies and does not file insurance claims for the procedure.
Financing is available through Care Credit, including the possibility of a payment plan that is interest free for 6-months. Please call the clinic during business hours for more information.
Penile Skin Bridge Removal at Comfort Procedures DFW
We will be happy to address any questions you may have when you arrive at the clinic for this simple procedure.   It's totally understandable if you are nervous but just know that Dr McAuliff has completed thousands of successful procedures over the years.
Dr. McAuliff has devoted his practice to male reproductive health, including no scalpel vasectomy and circumcision for boys, teens and men.  The quality of care offered at our clinic is unsurpassed, our service is sensitive and professional.
Before and After Skin Bridge Removal
Call Us to Book!
469-931-0684
Just before your procedure, we will provide a local anesthetic to numb the area around the adhesion. After a quick and virtually painless cut, the skin bridge will be released, separating the skin from the shaft or head. Men experience minimal bleeding and the incision is closed with simple skin glue (no stitches needed).
Because of the simplicity of this procedure, there is minimal risk involved. Just be sure you follow up with proper aftercare to eliminate the chance of infection. We will ensure you have all the instructions you need during your recovery.
Discomfort with appearance, pain or pulling during erection are remedied by the procedure. You don't have to endure a skin bridge, just call us at us at 469-931-0684.
Fixing an Infant Circumcision
Did your child have a circumcision at a different facility and you are concerned there is too much foreskin remaining? If so, please contact us and come in for a consultation. The earlier we catch and treat penile adhesions, the easier it is to address and avoid more permanent attachment later in life.
Dr. McAuliff will discuss the best way forward to handle your son's treatment after a thorough examination. In some instances, topical treatments may be able to adequately address the issue, however, if foreskin removal is the recommendation, we can perform that procedure here in our clinic. 
You can stay with your son throughout the procedure – parents are always welcome to be with their child at our clinic.  Just call us to set an appointment at 469-931-0684.
The procedure is fast and we provide a soothing environment for your child to minimize any anxiety.

Relief from the Constriction of Skin Bridges
You will be treated with care and professionalism no matter if your concerns are cosmetic or painful. We will ensure you are as comfortable as possible before, during, and after your procedure.
You no longer need to endure discomfort or pain from a penile skin bridge or be disheartened by your appearance. Our Richardson clinic offers immediate relief through various treatment options.
Our whole practice is dedicated to male reproductive health.  We welcome males of all ages from the Dallas – Fort Worth area.
Whether you'd like a vasectomy, a circumcision for yourself or your son or surgical services to improve penile function, we want you to choose us.  Dr. McAuliff and all our staff look forward to hearing from you.  Contact us today or call for an appointment during business hours.